Available products:
Bath Soap Bar:
Gardener's Citrus Scrub Bar

Gardenia Sea Salt

Lavender

Lemongrass Sage

Oatmeal Milk & Honey

Pomegranate
Soy Lotion Candle in Lavender or Lemongrass Sage
Body Butter in Gardenia or Oatmeal, Milk & Honey
Body Oil in Lavender or Rose
Botanical Soak: Calendula Cornflower or Lavender Rose
Sugar Scrub in Oatmeal Milk & Honey or Lavender
Lip Balm in Lavender, Orange, Peppermint or Pure & Simple (fragrance-free)
Home Spa Day Gift Set Lavender
Shampoo Bar Lemongrass Tea Tree
Conditioner Bar Lemongrass Tea Tree
Bath Sponge 
Cedar Soap Dish
Sitz Bath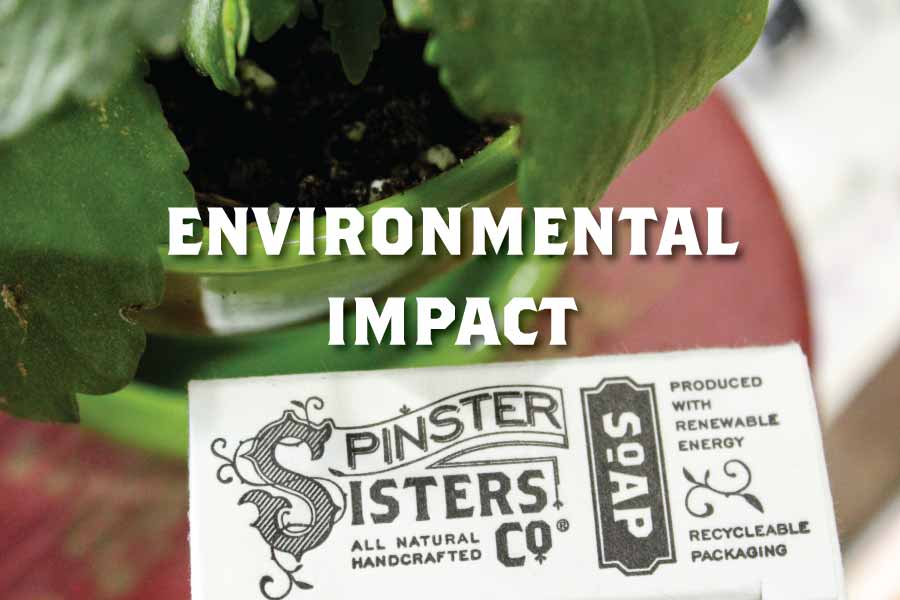 Environmental Impact
Spinster Sisters Co. is committed to using ecologically sound ingredients, procedures and packaging to craft their all-natural skincare at the Microsoapery in Golden, Colorado. They use Windsource® through Xcel Energy to ensure that production facility and retail stores are 100% wind-powered.
The same care is extended to ingredient sourcing. Do you worry about the loss of orangutan habitat due to palm oil production? Palm oil is the #1 most-used oil in the world, and is an indispensable part of the Bath Soap mixture to make a hard, long-lasting bar. The palm oil Spinster Sisters uses is sustainable, Rainforest Alliance Certified, approved by the Roundtable on Sustainable Palm Oil, and comes from Colombia — where there are no orangutans (we promise).
Spinster Sisters is also picky about their packaging. To reduce plastic use, we use uncoated paper boxes, 1-3 year biodegradable corn shrink wrap, metal tins, and glass bottles. Almost all of their plastic packaging consists of post-consumer recycled material or 100% recyclable #1 PET. They seek U.S. made bottles, tubes and boxes and print their packaging close to home.
Testers available for most product
Come visit us soon to sample and discover your favorite Spinster Sisters products! We already love the body butter, lip balm and conditioner bar. What is your favorite?